Mammalian Bispecifics
A leading technology platform and scientific experience for bispecific therapeutics
Integrated Solutions for Bispecific Antibodies
A Breakthrough Platform Approach for the Efficient Development and Manufacturing of Bispecific Antibodies
Our fully-integrated development platform encompasses a strong understanding and efficient production of bispecific antibodies from cell line development (CLD) through to GMP commercial manufacturing.
There is a global need for high-quality, effective, off-the-shelf therapies that can be used immediately while concurrently avoiding supply chain issues and mitigating process complexities. An off-the-shelf therapy that can be used immediately, rather than one that is manufactured individually for each patient, can be a life-saving proposition for patients facing difficult-to-treat diseases. Bispecific antibodies (bsAbs) are constructed to help meet this need due to their ability to bind to two or more different epitopes, thereby allowing them to perform multiple discrete mechanisms of action.
Our seamless approach optimizes your experience, delivering high-quality bulk drug substances under accelerated timelines.
World-Class Expertise in Bispecifics
While many of the bsAbs in development fundamentally maintain the heavy and light chain structure of standard antibodies, advances in protein engineering have allowed for the development of smaller versions, such as BiTEs and DARTs, and for more complex versions with extra binding domains appended to the heavy and/or light chains of the antibodies. KBI has experience in classical formats of Hc/Lc in bsAbs as well as BiTEs and DARTs and appended domains.
Industry-Leading Delivery of Bispecific Programs Through Increased Quality, Efficiency, and Time Savings.
Our mammalian-based bispecific expression combines of best-in-class CLD with unmatched expertise and experience in mammalian-based contract development and manufacturing. We prioritize quality, efficiencies, and time savings in bsAb production across a diverse portfolio of molecule formats. KBI's solutions for bispecifics encompass the five key features that you should be looking for when developing your bsAbs program:
Robust cell line to cope with expression stress

resulting from translating, folding, and pairing such complex, non-natural proteins leading to insufficient productivity
Stable and high expression of the proteins of interest

which, in the case of bsAbs, often means playing with molar ratios of light and heavy chains to enhance the heterodimer/homodimer ratio
Straightforward approach to early screening for cell clones producing the highest levels of intact heterodimer, which typically requires screening of pools transfected with a matrixed panel of different heavy and light chain ratios
Comprehensive analytical science offering, especially regarding assays to investigate product fragments, charge heterogeneity, and impurities, which are typical to measure homodimer and heterodimer levels, a key component of bispecific development
Efficient tech transfer for consistent titer and heterodimer/homodimers ratio across the runs from optimization through demonstration to GMP
Experience the Power of Integrated Solutions for Bispecific Antibodies
Whitepaper
Delivering On The Promise Of Bispecifics: State-Of-The-Art Bispecific Antibody Development
Given the complexity of bsAbs, a cell-line development platform for these proteins must contain three key features to be sufficiently robust for generating bsAbs: Stable and high expression of bsAbs, straightforward early screening, and a robust cell line that can handle stressors. Furthermore, advancing bsAbs from the bench into the clinic requires process development, analytical methods, and scale-up for cGMP manufacturing. We have created a leverageable, integrated workflow that generates high-quality clinical bulk drug substances under accelerated timelines.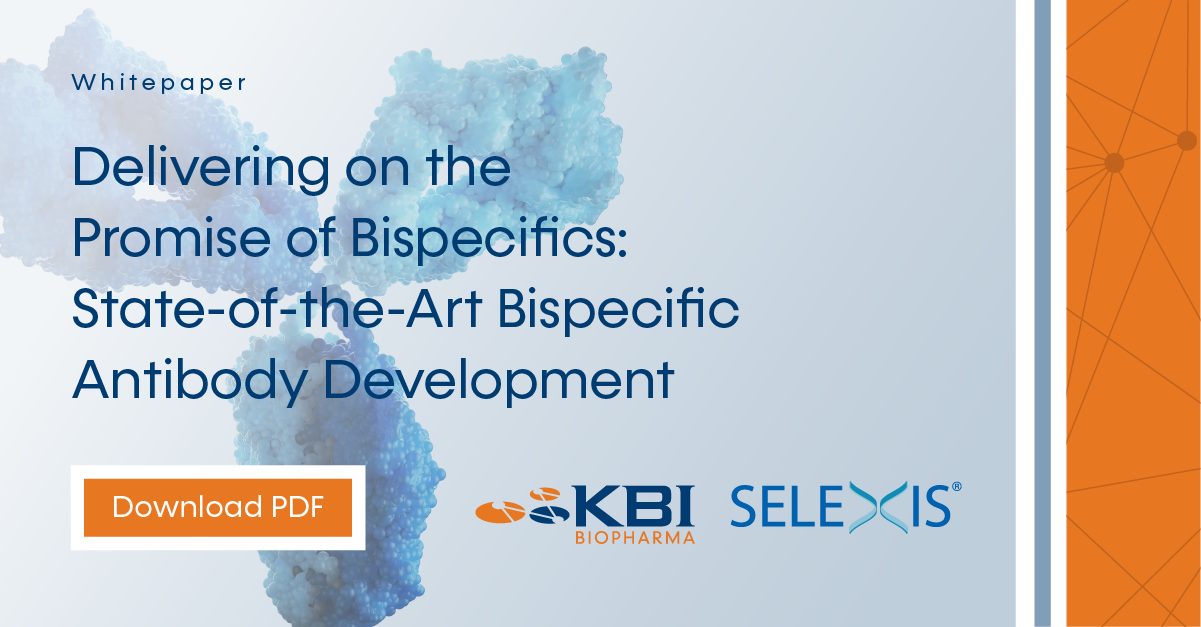 Webinar
Streamlined Development For Efficient Production Of Bispecific Molecules Using An Integrated Platform Process
This webinar demonstrates a breakthrough platform approach that encompasses the efficient production of bispecific molecules in an integrated, streamlined way, from CLD (cell line development) to cGMP manufacturing. The leverageable integrated workflow from Selexis and KBI Biopharma generates high-quality clinical bulk drug substances under accelerated timelines.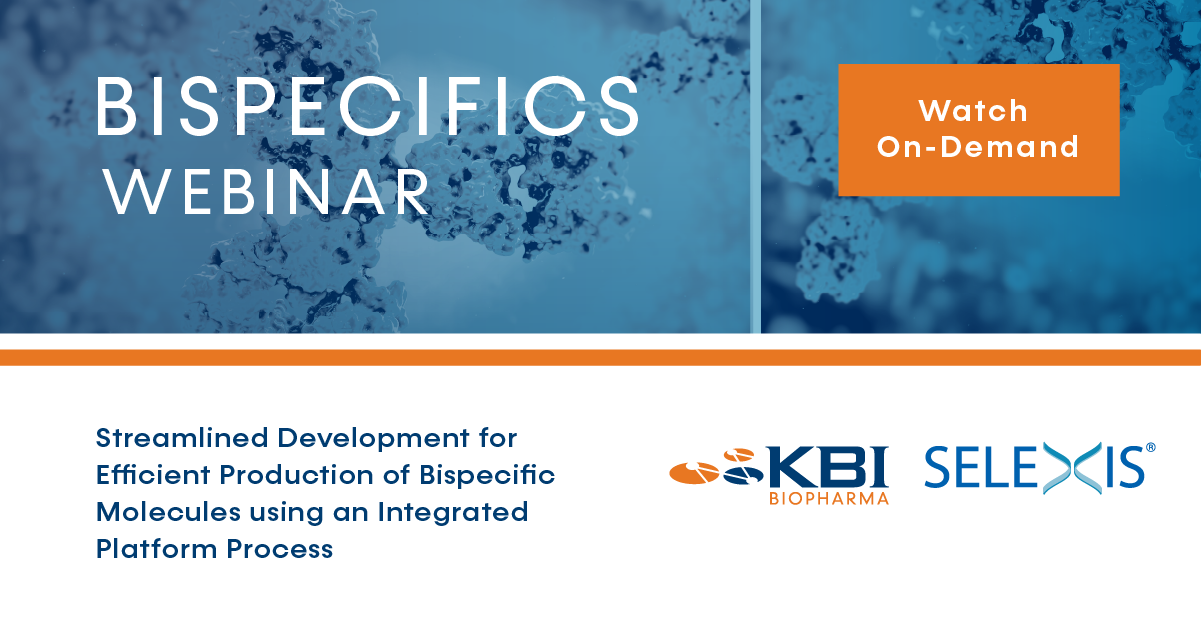 Explore More Mammalian Services & Capabilities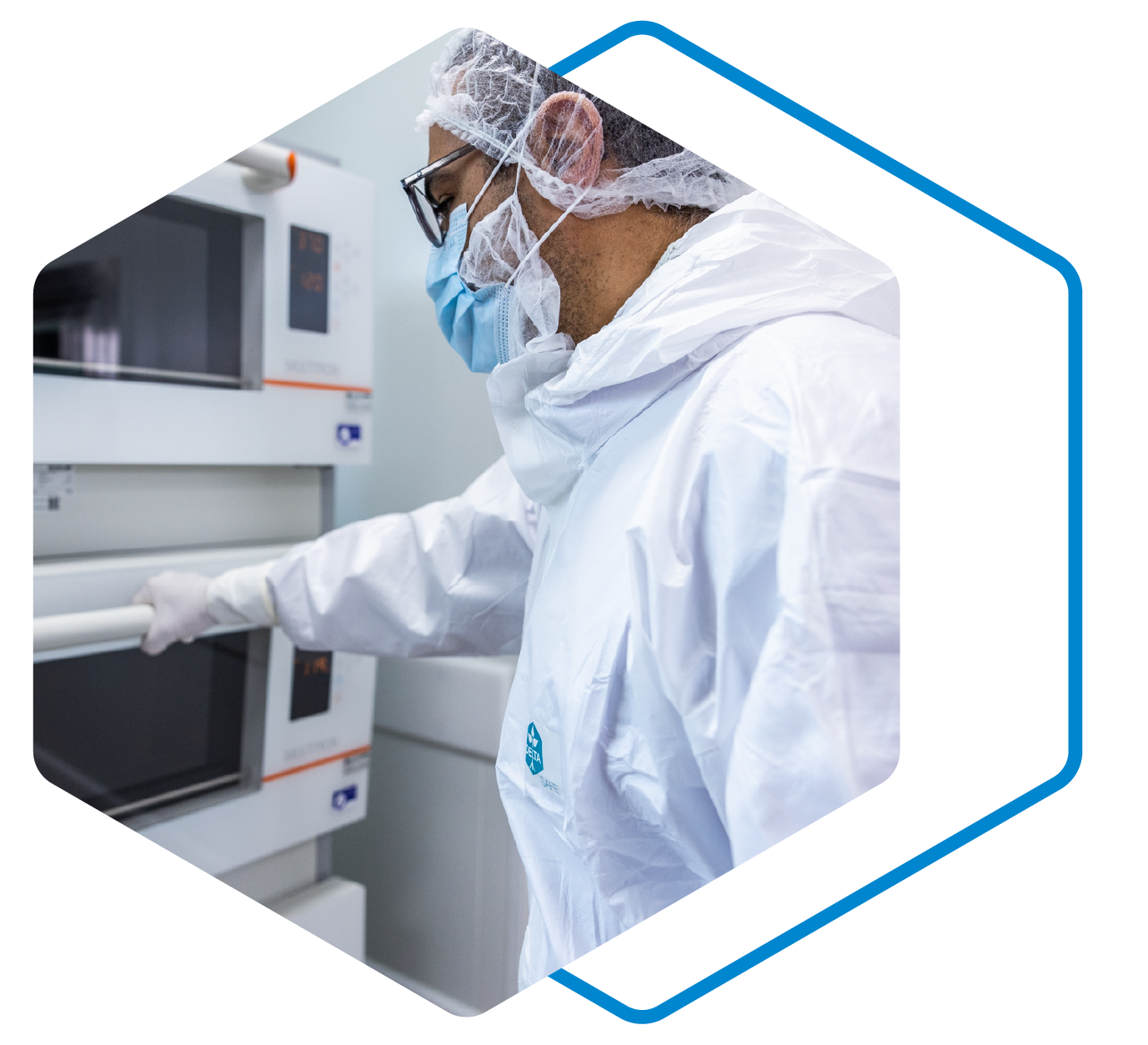 Never Miss Another Update!
Subscribe to KBI's Newsletter, The Pulse, to stay up-to-date on all the latest news, articles, and events from KBI Biopharma.