KBI Biopharma's SUREtechnology Platform™, powered by Selexis®, introduces
SUREmAb™
A streamlined offering for mAb development with shortened development and manufacturing timelines
Making Monoclonal Antibody Development a SURE Thing With SUREmAb™
Monoclonal Antibody Development, the Way it's Meant to Be.
Built on the SUREtechnology Platform, SUREmAb optimizes monoclonal antibody (mAb) development and manufacturing processes, fast-tracking the path to clinic and market.
SUREmAb offers a simplified process for mAb development and manufacturing that increases efficiencies and speed while continuing to deliver the exceptional quality our SUREtechnology Platform is known for. Specifically designed for robust, secure mAb development under accelerated timelines, SUREmAb delivers high titers of up to 10 g/L with a streamlined, lower-cost workflow for maximum return on investment (ROI).
Our SUREmAb offering leverages our proprietary SURE CHO-M Cell Line™ to generate high-performing, mammalian-based cell lines that move seamlessly into manufacturing and commercialization. Our world-class expertise and depth of proprietary technology and processes allow us to significantly reduce the time, effort, and cost associated with the development of high-performance mAb-producing cell lines for therapeutic protein production.
The Data and Insights you Need, the Reliability and Performance you Expect, and the Global Regulatory Compliance you Require.
Simple and Secure, Fast-tracked and Cost-effective.
With SUREmAb™, You've Met your Match.
SUREmAb enables research cell bank (RCB) development in as little as 9 weeks* and drug substance release in 11 months* for straightforward projects. We preemptively navigate technical hurdles, delivering the quality you expect with a streamlined, rapid solution that makes simple mAb development a SURE thing.
Fast-tracked for efficiency and speed, taking you from DNA transfection to GMP drug substance in 11 months*
Comprehensive mAb development journey is engineered for robust, secured mAb development at high titers with maximum ROI
Built on a proven platform with an established track record of success, with more than 15 years of mAb development experience that has led to 150 unique therapeutic mAb projects that have resulted in 7 commercialized mAb therapeutics
Global compliance with a local presence, meeting regulatory standards set by the US FDA, EMA, and PDMA, with global development and manufacturing capabilities across our sites in the United States and Europe
Access to our platform with alleviation of royalties : continuing into clinical and commercial manufacturing with KBI means waiving license fees, allowing you to maximize the value of our innovative solutions without financial burden.
In the race to market, speed matters. But cost, quality, and security do too. That's why, with SUREmAb, we've ensured that you've met your match. Trust your mAb journey to us, and together, let's make development success a SURE thing.
* Please note: The SUREmAb offer does not apply to mAb-based biosimilar projects or for any IgG shape-derived proteins that are different from an intact IgG format - including bsAbs, Fc fusions, and IgG fragments - as well as other protein classes outside of IgGs. Timeline estimates are subject to open manufacturing capacity and may vary by project.
Explore More Mammalian Services & Capabilities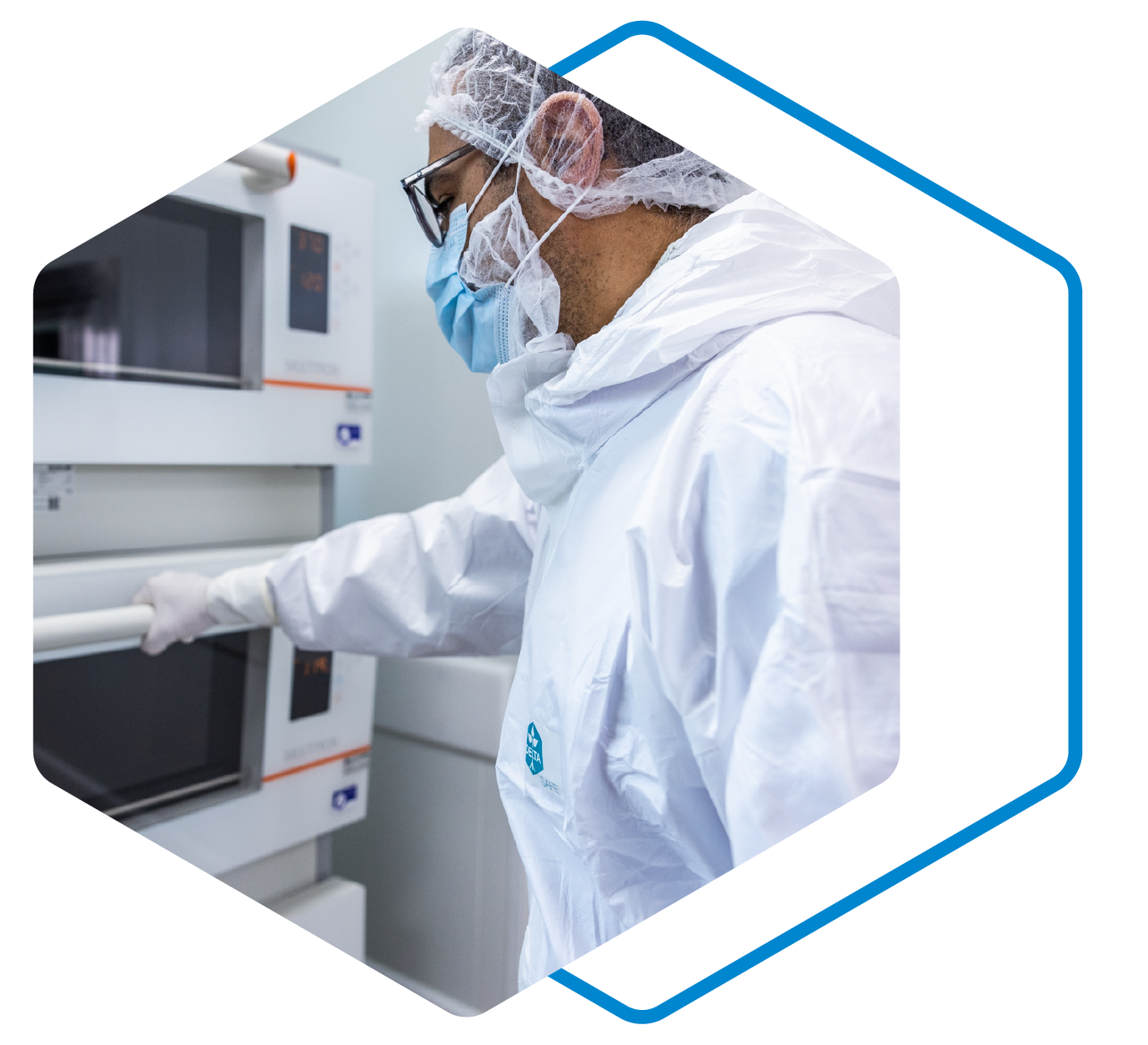 Never Miss Another Update!
Subscribe to KBI's Newsletter, The Pulse, to stay up-to-date on all the latest news, articles, and events from KBI Biopharma.