Purification
Expert purification process development for biotherapeutics
Developing Purification Process to Support New Biologics
Applying Deep Knowledge and Experience to the Science and Practice of Biopharmaceutical Drug Development
By leveraging the experience gained from developing processes for more than 75 unique biomolecules, KBI has perfected standard approaches for process development across various classes of proteins, including monoclonal antibodies.
KBI Biopharma has extensive experience developing purification processes for a wide variety of biotherapeutics, including:
Monoclonal antibodies
Bispecific antibodies
Enzymes
Fc fusion proteins
PEGylated proteins
Complex glycoproteins
This experience has also allowed KBI to develop a toolbox that promptly resolves unique protein purification challenges.
KBI's robust protein characterization capabilities, including conformational and structural analyses via biophysical techniques and mass spectrometry, provide "fast insight" into a client's unique product, enabling a development strategy that accelerates timelines and reduces risk.
KBI's Phase-Specific Lifecycle Approach to Analytics
Having integrated process development and analytical development teams ensures a broad perspective to achieve product quality goals for each program.
Industry-leading scientific methodologies in high-throughput process development

40+ annual programs ranging from First in Human (FIH) process development to late-stage process development, characterization, and validation

15+ investigational new drug (IND) submissions supported annually
KBI's Purification Capabilities
Highly Evolved Downstream mAb Platform
Downstream platform designed to provide robust impurity clearance despite diverse mammalian cell clones and cell culture harvests

Extensive experience in expedited process development for monoclonal antibodies
Development of Process Platforms for Non-mAbs
Establishment of Bespoke Downstream Processes
Integration of process development and analytical development to customize downstream unit operations

Inclusion of selective washes to enhance impurity clearance
Process Characterization, Scale-down Validation & In-process Control Strategy
Application of QbD principles to define process design space

Qualification of scale-down models

Identification of important process parameters through FMEA analysis

Execution of single variable experiments to response surface DOEs to enable classification of process parameters as key or non-key
Understanding of Protein Interactions with Chromatographic Surfaces & Influence on the Downstream Process
Utilization of multimodal chromatography to increase the robustness of process impurity clearance

Evaluation of target protein biophysical and biochemical attributes to guide downstream process development
Viral Clearance Validation Studies
Implementation of ICH Q5A guidelines

Design, planning, and execution of Phase I and Phase III viral clearance studies

Execution of more than 100 studies

Established relationship with third-party viral clearance labs to ensure successful studies and to meet expedited IND filing timelines
Explore More Analytical Services & Capabilities: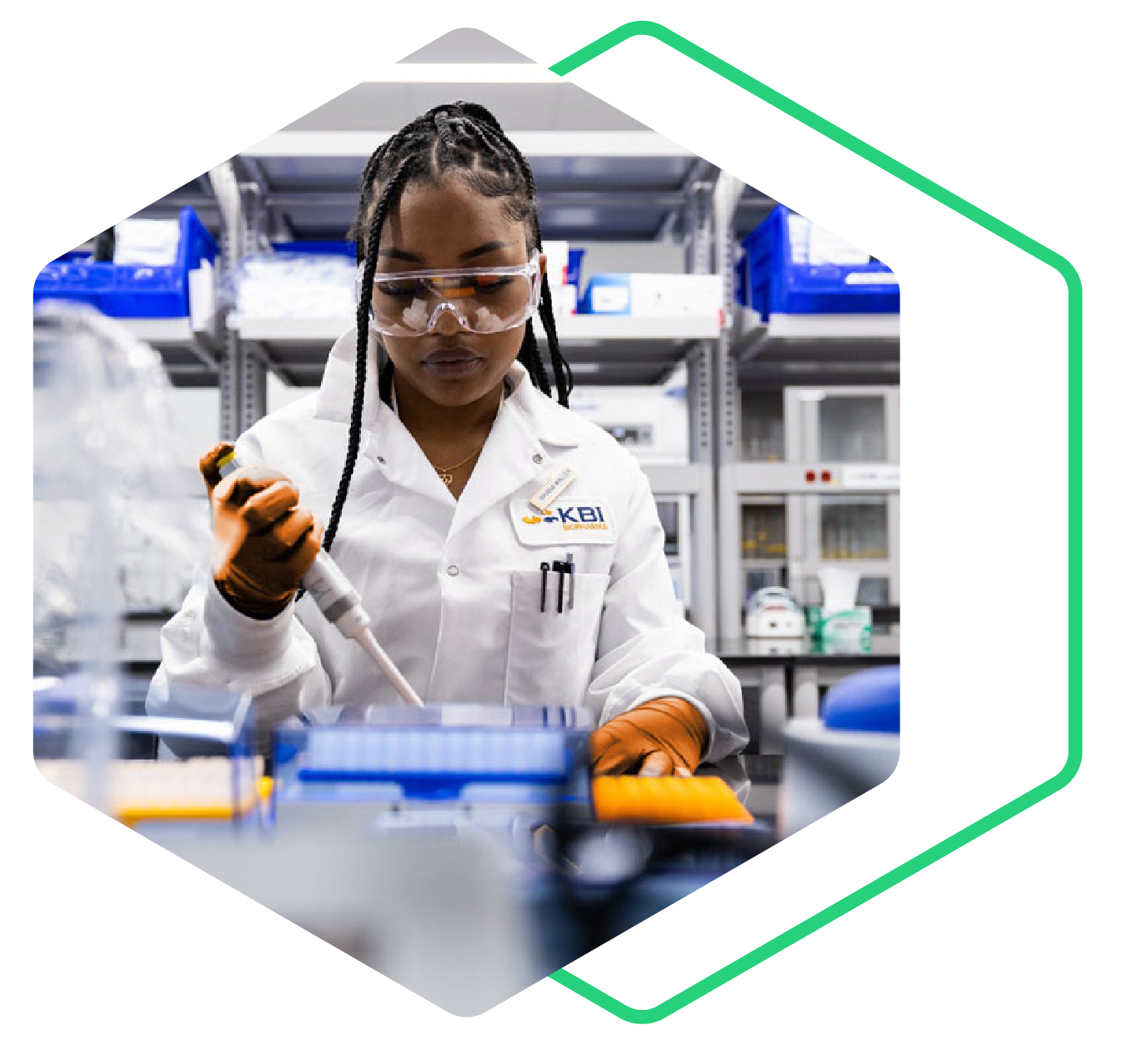 Never Miss Another Update!
Subscribe to KBI's Newsletter, The Pulse, to stay up-to-date on all the latest news, articles, and events from KBI Biopharma.