Commercial Mass Spectrometry
Advanced Mass Spectrometry Analysis for Protein Characterization
Mass Spectrometry Analysis for Protein Characterization
State-of-the-Art Mass Spectrometry Core Facility to Support New Biologics
Mass spectrometry is among the most powerful analytical techniques available for protein characterization. KBI's state-of-the-art mass spectrometry core facility delivers unparalleled structural characterization services to our clients.
Our expert team brings decades of experience in protein and peptide characterization to provide the right data with the right insight at all stages of development.
Whether you are seeking sequence verification and developability data to support proof-of-concept, initial structural characterization to support IND filing, or comprehensive impurity characterization to support BLA licensure, KBI will exceed your expectations.
Our Experience in Mass Spectrometry Characterization Includes:
Monoclonal antibodies (full-length mAbs, domain antibodies, antibody conjugates, fragments)
Fusion proteins
Multi-specific antibodies & proteins
Protein vaccines
Other recombinant protein drugs
Proteomic work flows
Peptide drugs
Conquering Complexities with Advanced Mass Spectrometry
Expertise in Analytics
For Comprehensive Biotherapeutic Development, Manufacturing, and Downstream Processing
Expert Support for Development and Characterization at Every Phase of the Project Cycle
High-resolution mass spectrometry is a powerful tool used at KBI Biopharma for analytical strategies concerning complex samples. In support of biotherapeutics across the board, KBI's Mass Spectrometry Core Facility has championed the characterization and management of proteins, active pharmaceutical ingredients (APIs), and impurities through identification, characterization, assessment, and quantitation. At KBI, we are true partners working hand-in-hand with clients to conquer complexities and develop lasting solutions to the analytical challenges that come with the development of biologics.
High Selectivity
High Sensitivity
High Specificity
High Resolution
Backed by Decades of Experience
Q&A with KBI's Mass Spectrometry Team
We recently sat down with Michael J. Nold, Ph.D., Senior Director of KBI's Mass Spectrometry Core Facility in Durham, North Carolina, to discuss how advanced Mass Spectrometry plays a significant analytical role in the characterization and quantitation of APIs and impurities in complex biotherapeutics.


Using Advanced Mass Spectrometry for Characterization and Quantitation of APIs and Impurities in Complex Biotherapeutics
Advanced analytical capabilities, including mass spectrometry, are critical for the characterization of active pharmaceutical ingredients (APIs) and managing a diverse population of impurities. This allows for effective mitigation of safety risks and ensures product quality.
KBI's Mass Spectrometry Core Facility Capabilities
State-of-the-art Systems
Waters Acquity® UPLC – Sciex TripleTOF® 6600

Waters Acquity® UPLC – Xevo® G2 Q-Tof

Waters Acquity® UPLC – Xevo® G2-S Q-Tof

Waters Acquity® UPLC – Xevo® G2-XS Q-Tof

Synapt ® G2-Si High Definition Mass Spectrometer
Methods & Software
UPLC-UV/MS, UPLC-UV/MS/MS, UPLC-UV/MSE, UPLC-FLR/MSE, UPLC‑UV/SWATH

BiopharmaLynx™, Progenesis QI for proteomics, BioLynx®, ProteinPilot™, BioPharmaView™, MultiQuant™, MarkerView™, PeakView™
Protein
Intact mass analysis by RP-UPLC-UV/MS, determination of glycosylation patterns

Separation and characterization of deglycosylated and/or reduced mAbs and fusion proteins by RP-UPLC-UV/MS

Intact mass analysis by RP-UPLC-UV/MS of reduced and non-reduced subunits following IdeS treatment for hinge region cleavage

Heterodimer purity analysis by RP-UPLC-UV/MS
Peptide
Peptide mapping mass spec by RP-UPLC-UV/MSE for sequence confirmation

Modification / degradation analysis including glycosylation; N-terminal pyroglutamic acid, pyroglutamine; C-terminal lysine truncation; deamidation; oxidation; etc.

N-terminal & C-terminal processing and sequence heterogeneity assessment and quantitation by RP-UPLC-UV/MSE

Sequence variant identification by RP-UPLC-UV/MSE

Targeted peptide verification by RP-UPLC-UV/MS/MS

Quantitative monitoring of peptides or post-translationally modified peptides under cGMP conditions

Disulfide mapping by RP-UPLC-UV/MSE
Glycan & Glycopeptide
RapiFluor labeled glycan identification and quantification of released N-glycans by HILIC UPLC-FLR/MSE

Glycan site occupancy from deglycosylated & reduced peptide map by RP-UPLC-UV/MSE

Site-specific glycan profiling of fully glycosylated & reduced peptide map by HILIC-UPLC-UV/MSE
Additional Mass Spectrometry Testing Services
Host cell protein analysis

ELISA support
Monitoring process clearance
Identification and relative quantitation
Targeted screening and quantitation

PEGylation site and occupancy analysis

Product and process-related impurity analysis

Cell line profiling
Explore More Analytical Services & Capabilities: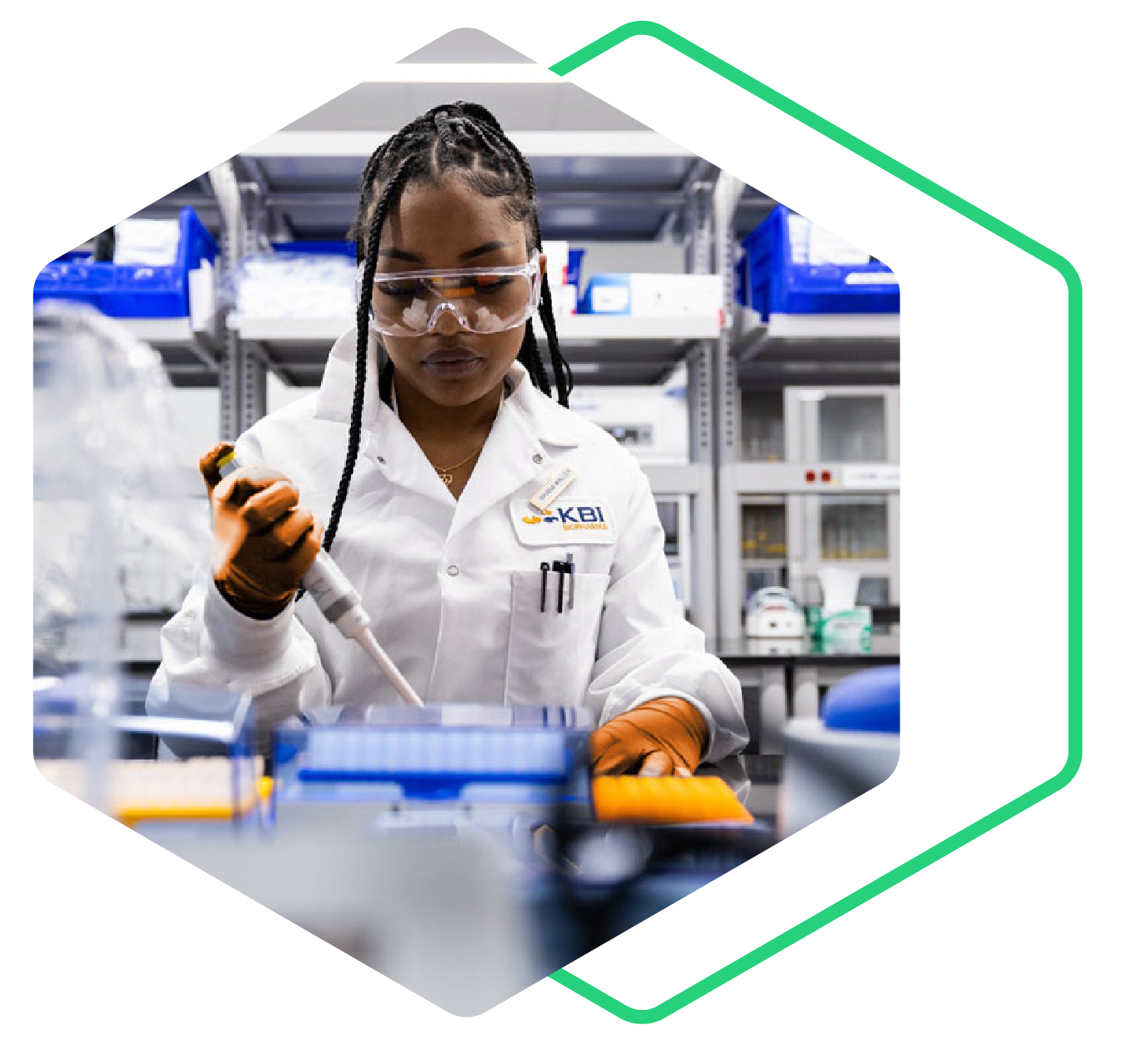 Never Miss Another Update!
Subscribe to KBI's Newsletter, The Pulse, to stay up-to-date on all the latest news, articles, and events from KBI Biopharma.