Analytical
Developing lasting solutions to analytical challenges in biologics development
Global, Expert Analytics to Support Robust Data Requirements
Analytical and Process Development Support at Every Phase of the Project Cycle
The clinical and commercial success of biotherapeutics hinges on developing and supporting scalable and reproducible processes.
Analytics is a decision driver across every phase of a project cycle. At KBI, our deep expertise in analytics covers every stage of a project, from structure prediction and analysis to cell line development to commercial manufacturing - across non-GMP and GMP activities. Our extensive process and analytical development capabilities cover all stages, supporting early-stage development efforts through small-scale protein production to fully-integrated, comprehensive process optimization leading to GMP manufacturing. From process and product characterization to scale-down validation studies and at every step along the way, we take pride in our deep knowledge and experience in the science and practice of biopharmaceutical drug development.
KBI's Phase-Specific Lifecycle Approach to Analytics
KBI employs a phase-specific interdisciplinary lifecycle approach to analytics. Combining cutting-edge technology, close collaboration, and keen insight, we create lasting solutions to analytical challenges that take your project from early-stage samples to highly-purified drug substances.
KBI's full range of biopharma analytical and process development capabilities enables us to take on very early or very late programs with full confidence. With our depth of experience, we can readily develop relevant experimental strategies that lead to the rapid optimization of robust, reliable, and scalable processes. To do so, we rely on:
High throughput chromatographic screening capabilities

Complimentary analytical tools to enable rapid progress in process development
More Power to Develop, Manufacture, Repeat
The Right Data with the Right Insight
KBI Biopharma is a Trusted Global Leader in Protein Analytics
KBI offers a comprehensive range of analytical, biophysical characterization, cell-based assays, and mass spectrometry capabilities. Our scientists expertly apply these technologies and methodologies to interpret your data, delivering the correct information needed to support your product through all stages of development.
KBI Biopharma is a global partner for expert analytical, process, and formulation development. Our team of experts and world-class facilities around the globe ensure your success in developing the next biologics. Whether you are looking for developability data to support proof-of-concept, initial characterization for IND filing, or comprehensive forced degradation and impurity characterization to support BLA licensure, working with KBI Biopharma delivers a streamlined experience with the right experts and right instrumentation to enhance the understanding of your molecule.
Conquering Complexities with Advanced Mass Spectrometry
Expertise in Analytics
For Comprehensive Biotherapeutic Development, Manufacturing, and Downstream Processing
Expert Support for Development and Characterization at Every Phase of the Project Cycle
High-resolution mass spectrometry is a powerful tool used at KBI Biopharma for analytical strategies concerning complex samples. In support of biotherapeutics across the board, KBI's Mass Spectrometry Core Facility has championed the characterization and management of proteins, active pharmaceutical ingredients (APIs), and impurities through identification, characterization, assessment, and quantitation. At KBI, we are true partners working hand-in-hand with you to conquer complexities and develop lasting solutions to the analytical challenges that come with the development of biologics.
High Selectivity
High Sensitivity
High Specificity
High Resolution
Backed by Decades of Experience
Q&A with KBI's Mass Spectrometry Team
We recently sat down with Michael J. Nold, Ph.D., Senior Director of KBI's Mass Spectrometry Core Facility in Durham, North Carolina, to discuss how advanced Mass Spectrometry plays a significant analytical role in the characterization and quantitation of APIs and impurities in complex biotherapeutics.


Using Advanced Mass Spectrometry for Characterization and Quantitation of APIs and Impurities in Complex Biotherapeutics
Advanced analytical capabilities, including mass spectrometry, are critical for the characterization of active pharmaceutical ingredients (APIs) and managing a diverse population of impurities. This allows for effective mitigation of safety risks and ensures product quality.
Explore More Analytical Services & Capabilities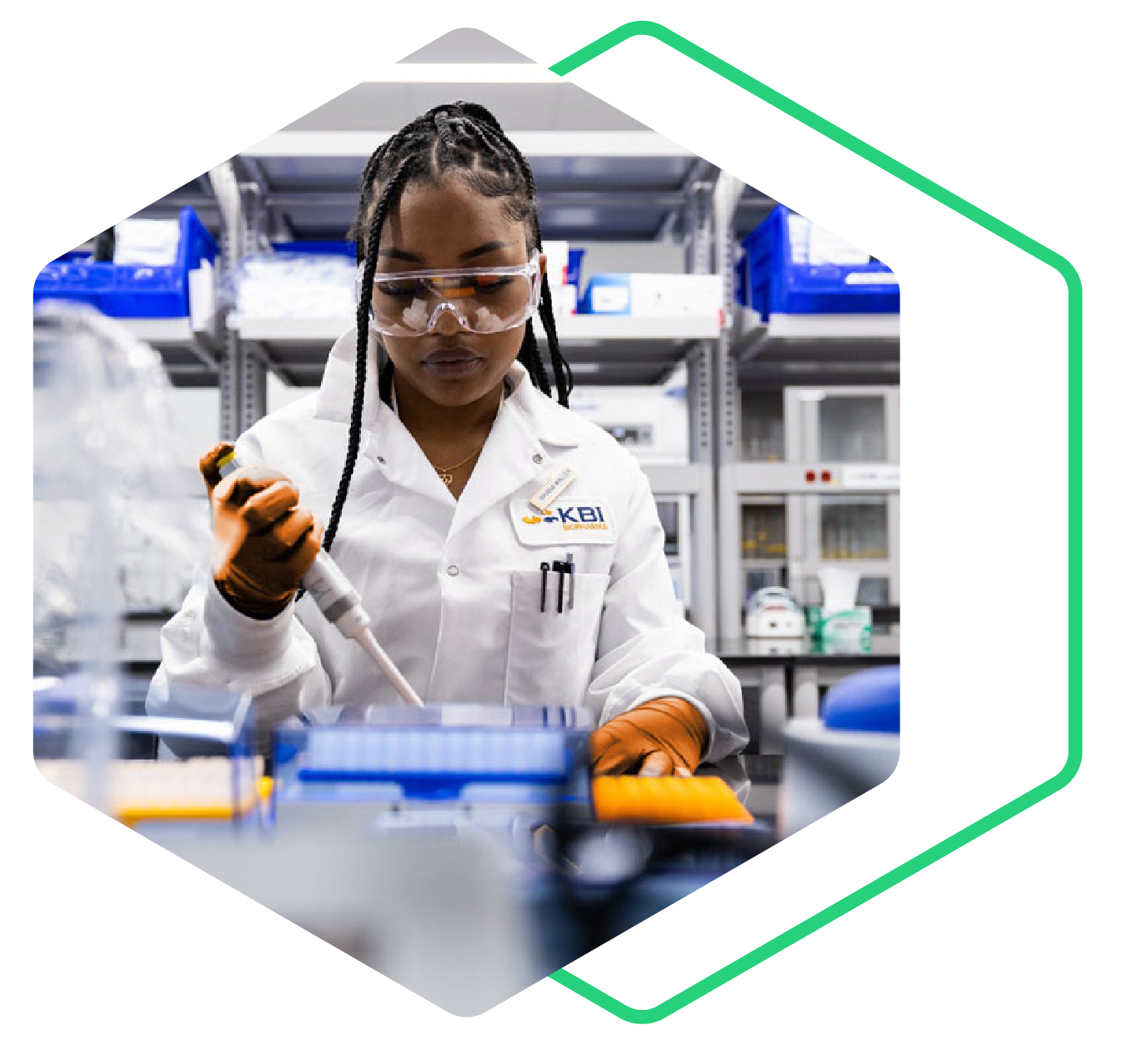 Never Miss Another Update!
Subscribe to KBI's Newsletter, The Pulse, to stay up-to-date on all the latest news, articles, and events from KBI Biopharma.