Analytical Development
Comprehensive analytical development services at every phase of the project cycle
KBI's Phase-Specific Lifecycle Approach to Analytics
Analytical Support at Every Phase of the Project Cycle
KBI has completed over 3000 analytical projects for more than 100 clients and more than 130 distinct molecules.
Our experience includes antibodies (IgG1, IgG4, IgM, FAb, ADC, Fc fusion), enzymes, cytokines, growth factors, highly glycosylated proteins, protein vaccines, PEGylated proteins, conjugates, peptides, adeno-associated viruses (AAVs), oligonucleotides, and other proteins.
KBI expertise includes HPLC, CE, ELISA, UV-Vis, mass spectrometry, light scattering, biophysical characterization (DSC, CD, FTIR, fluorescence), binding assays (ELISA, Biacore, ForteBio), glycan analyses, cell-based assays, and others.
We routinely provide STAT analytical support for process development and manufacturing (HPLC and other methods for titer, purity, etc.).
KBI employs a phase-specific lifecycle approach to analytics. During method development, the stability-indicating capabilities of methods are evaluated via forced degradation studies. Method parameters are optimized to improve the resolution and recovery of the product-related impurities.
As part of method development, critical performance criteria such as specificity for degradation products (stability-indicating capability), linearity, precision, system suitability, etc., are evaluated. These development data serve as range-finding tools for subsequent protocol-driven qualification and validation studies.
KBI typically performs qualification of non-compendial product-specific methods to demonstrate their suitability for use in release and stability testing of drug substance and drug product intended for Phase I/II clinical studies.
KBI recommends performance of full validation before utilizing methods during process validation/conformance lot manufacture and use of drug substance and drug product for Phase III clinical studies.
KBI's Analytical Capabilities
Protein Primary Structure
Peptide Sequencing via LC/MS/MS

Peptide Mapping

Amino Acid Analysis
Biophysical Characterization
CD, FTIR, DSC, DLS, MALS, fluorescence spectroscopy, 2DUV
Glycan Analysis
Oligosaccharide mapping

Sialic Acid Quantitation

Monosaccharide composition
HPLC/UPLC
Size Exclusion

Reverse Phase

Affinity

Ion Exchange

Hydrophobic Interaction
Capillary & Slab Gel Electrophoresis
CZE

cIEF and icIEF

Western blot

2D gels and blots

SDS-CGE

SDS-PAGE and IEF

Microchip electrophoresis
Process Residuals
ELISA (HCP, protein A, etc.)

qPCR (DNA)

HPLC (antibiotics, IPTG, detergents, etc.)
Potency Assays
Enzymatic activity

Cell Based Assays (e.g., proliferation, cytokine release, etc.)

Binding Assays via ELISA, Biacore and ForteBio
Particulate Analysis, Including <10 micron Particle Characterization
HIAC

DLS

MFI

Morphologi G3-ID
Mass Spectrometry
Intact mass

Disulfide Mapping

PEGylation site identification

Peptide mapping with LC/MS or LC/MS/MS

Post translational modifications (e.g., oxidation, deamidation)

Glycan Identification & site identification
Explore More Analytical Services & Capabilities: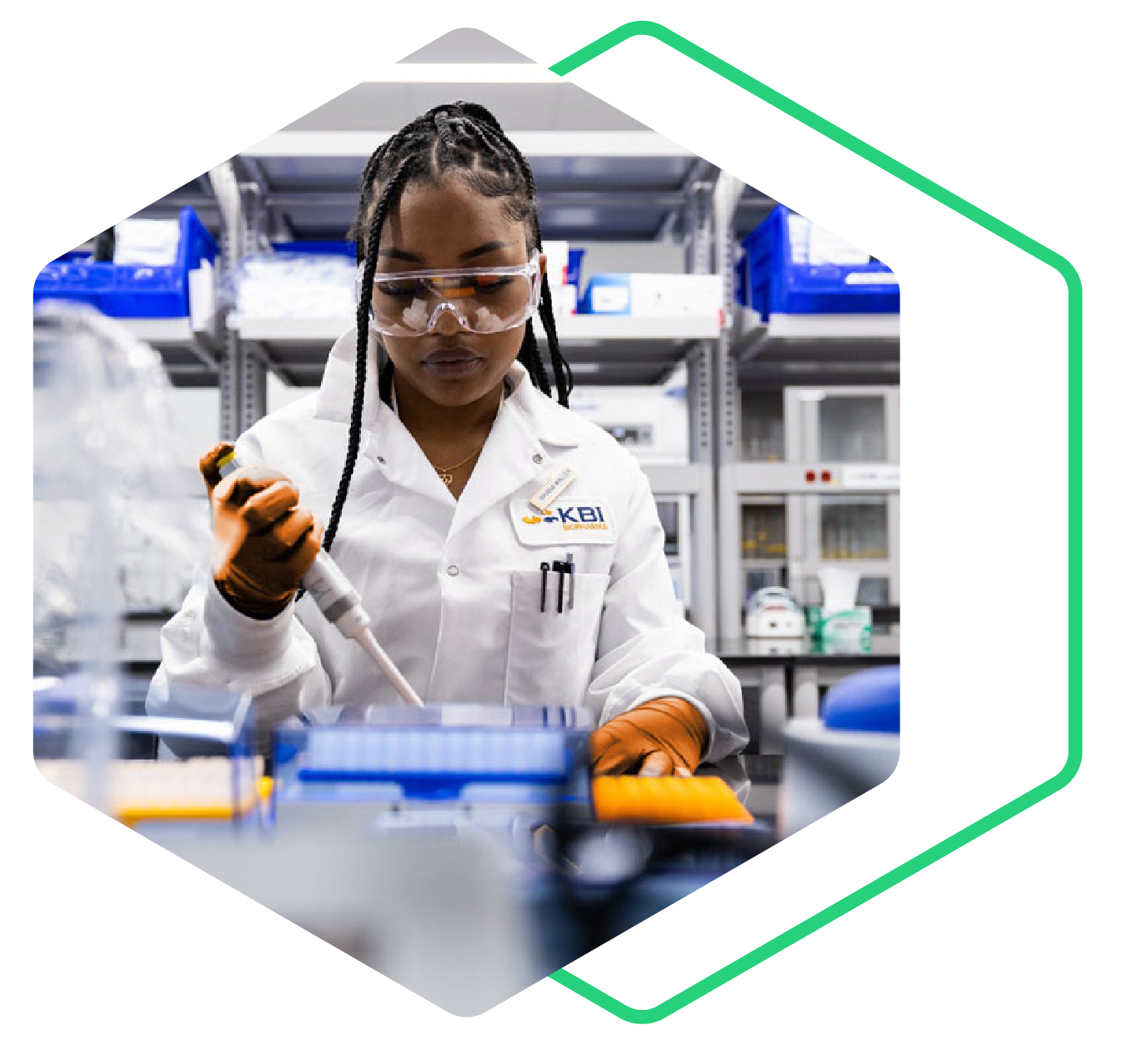 Never Miss Another Update!
Subscribe to KBI's Newsletter, The Pulse, to stay up-to-date on all the latest news, articles, and events from KBI Biopharma.