After becoming the first CMO in the world to implement the 2000L scale Xcellerex™ single-use bioreactor at our Durham, NC, USA site, KBI Biopharma immediately began delivering GMP Drug Substance supplying FIH (First in Human) and clinical resupply programs.
In 2014, our proven track record for drug substance delivery facilitated manufacturing suite space expansion, adding another Seed Expansion, 500L→2000L bioreactor train, and purification suite.
In 2022, KBI expanded our clinical mammalian cGMP manufacturing capabilities within our site in Geneva, Switzerland, mirroring the Seed Expansion, 500L→2000L bioreactor train, and purification suite.
Learn more about KBI's deployment of single-use technologies
Our multi-product manufacturing facilities provide robust product segregation, pre-and post-viral downstream processing areas, and cross-contamination prevention.
The segregated HVAC design and personnel, material, and equipment flow together with the deployment of end-to-end single-use technology allow for maximum flexibility and rapid turn-around, all the while protecting your timelines and investment.
Learn more about our cGMP biologics manufacturing services
The mainstay of this success is our greatest asset - our team members. We are a diverse collection of experienced industry professionals, who understand the impact these new proteins, antibodies, and vaccines have on human health and put our hearts and experiences to work delivering outstanding quality products.
We expect you will feel right at home as you come to know KBI Manufacturing and our commitment to your company and your molecules.
4x (500L→2000L)
bioreactor train & purification suite
---
Multiple Trains
single-use (disposable) technology
---
24x7
manufacturing operations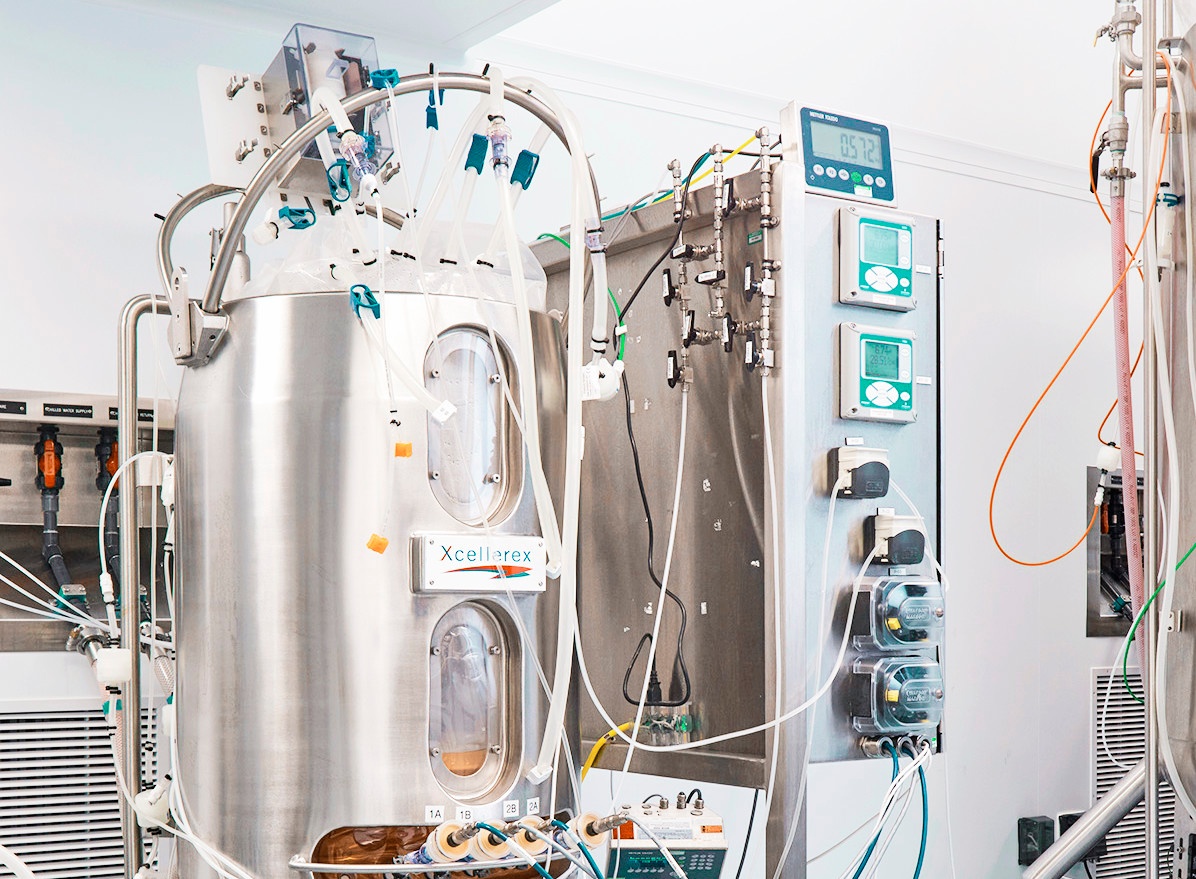 KBI's Clinical Mammalian Capabilities
Upstream Production Capabilities
Single-Use (Disposable) Technology

Seed Expansion Stages: Shake Flasks, Wave Bioreactors, 200L Seed Trains

Production Stages: Fed-Batch Cultures: 200L (40-200L w.v.) and 2000L (400-2000L w.v.)

Harvest Clarification by Depth Filtration and Single-Use Centrifugation

On-The-Floor Quality and Technical (SME) Oversight

24 hours 7 days a week operations
Downstream Production Capabilities
Single-Use (Disposable)Technology

Dedicated Pre and Post Viral Downstream Processing Areas

Single-Use Chromatography and UF/DF Technology

On-The-Floor Quality and Technical (SME) Oversight

24 hours 7 days a week operations
Facility/Utility Capabilities
Segregated and Independent HVAC Zoning

Single Pass Air Handling in Critical Areas

Electrical Power Backup and Generator

Qualified Building Management System
Warehousing and Storage
Qualified MCB Storage Units

GMP Material Warehouse

Ambient, 2-8°C, -20°C, -70°C Storage