October 27, 2020 | 11:00am ET
Development of a Lyophilization Platform Approach to Biopharmaceuticals
The interaction between formulation composition and lyophilization cycle is not well understood. In this presentation the audience will gain an understanding of the interaction between formulation matrix and lyophilization cycle, and will be able to learn how to develop a robust product that can be transferred to Manufacturing, having the confidence that the product will not collapse.
During this webinar participants will:
Learn how to use annealing to prevent product collapse even in the presence of salt
Understand the interaction between formulation and lyophilization cycle
Predict formulations which are risk prone and if future issues can be decreased by changing the lyophilization cycle.
---
About the Presenter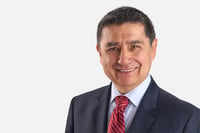 Juan Davagnino, Ph.D.
Juan has over 28 years of experience in formulation development. He joined KBI in 2007 and has seen KBI become a major CDMO, well recognized world-wide. Prior to joining KBI, Juan lead a team developing robust antibody-drug conjugate liquid and lyophilized formulations at Curagen Corp. Juan is recognized as a Subject Matter Expert in all aspect of Formulation Development internally and externally. Prior to joining the biopharmaceutical industry, Juan did Postdoctoral Research at Harvard Medical School and California Institute of Technology.