February 03, 2021 | 6:00pm ET
Application of Variable Pathlength Technology for Rapid Determination of Dynamic Binding Capacity

​​
An ever-increasing demand for biomolecule-based therapies is driving biopharmaceutical companies to accelerate process development activities to remain competitive in today's industry. Within the downstream process development space, affinity chromatographic media is widely used for primary recovery of bio-therapeutics such as monoclonal antibodies, Fc fusion proteins, etc. Optimization of the primary recovery step includes determination of dynamic binding capacity (DBC) for target protein molecule and can be a lengthy process using traditional methods. KBI Biopharma has applied the use of variable pathlength technology for rapid generation of breakthrough curves and determination of DBC for resin selection. Flow VPE, a variable pathlength UV detector from C Technologies, is integrated with the chromatographic system for real time generation of breakthrough curves, reducing the time and cost associated with the development of the primary capture step. This technology accelerates the overall process development timeline and, to a degree, helps offset the high cost of the affinity media. Case studies are included.
During this webinar participants will learn:
Learn application of variable pathlength technology in determination of dynamic binding capacity for primary recovery step during downstream processing of biotherapeutics
Discover advantages over traditional methods and impact on process development timeline
---
About the Presenter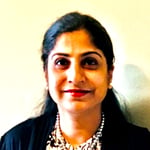 Rashmi Bhangale, Ph.D.
Rashmi received her Ph.D. in Chemical Engineering from the Institute of Chemical Technology in Mumbai, India. There her work focused on understanding the mechanisms involved in chromatographic separations for a priori prediction of performance of purification processes using chromatography. Rashmi joined the Downstream Process Development team at KBI Biopharma in North Carolina in 2018. Currently, a Process Development Scientist, Rashmi is involved in the development and transfer of purification processes for a variety of molecules including monoclonal antibodies, Fc fusions, and enzymes.