The KBI Biopharma analytical facility in Leuven, Belgium, has received a successful inspection from Belgium's regulatory authority, the Federal Agency for Medicines and Health Products (AFMPS/FAGG). This was a routine inspection of the facility, where KBI demonstrated its commitment to delivering high-quality analytics.
---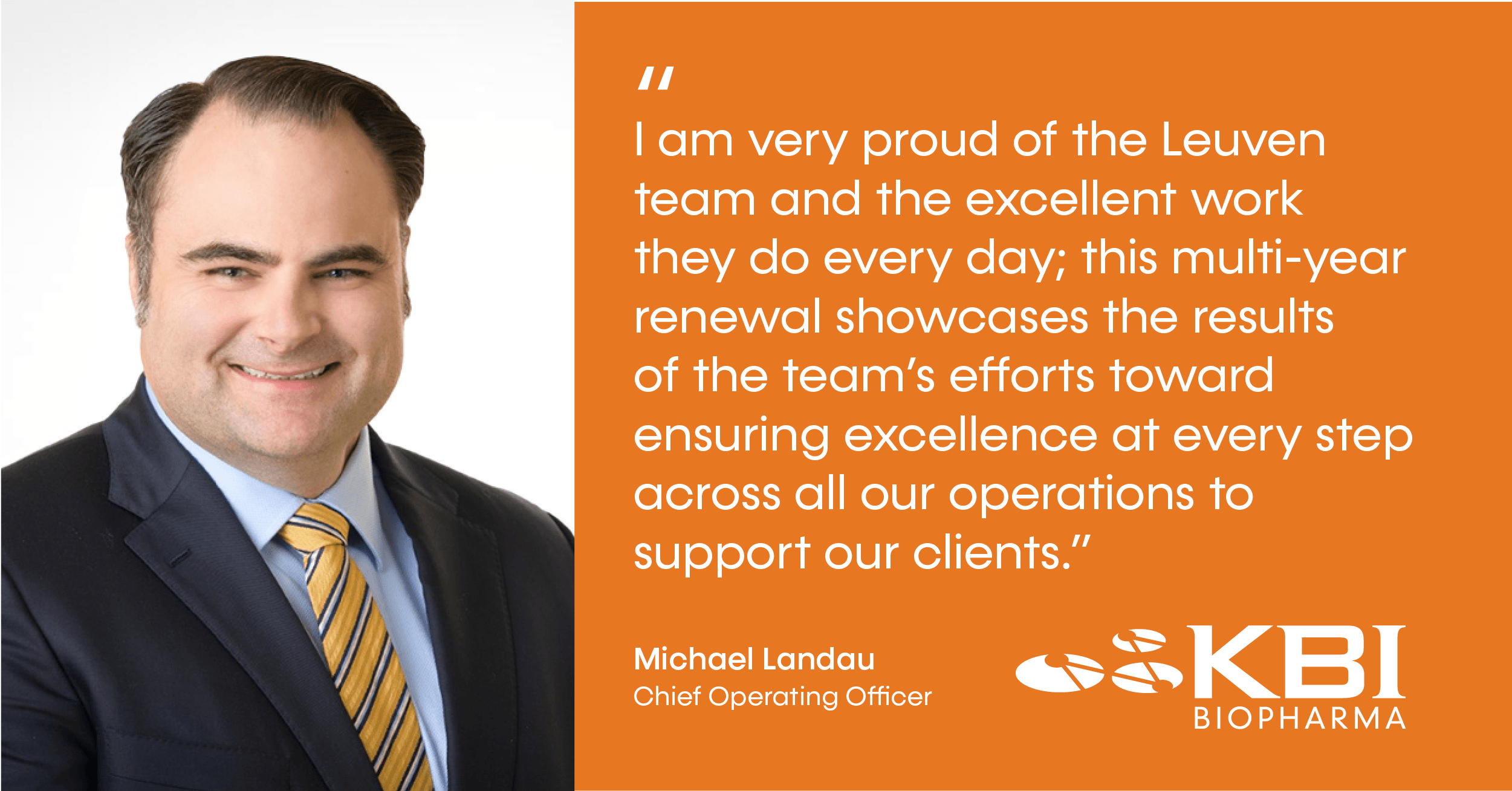 "I am very proud of the Leuven team and the excellent work they do every day; this multi-year renewal showcases the results of the team's efforts toward ensuring excellence at every step across all our operations to support our clients," said Michael Landau, Chief Operating Officer, KBI Biopharma and Selexis.
The KBI Leuven location is strategically located in Belgium to allow access to
KBI's analytical services
in a geographically convenient location for our European and global clients. Its state-of-the-art facility is fully equipped for the
release and stability analysis
of drug substances, drug products, placebos, and diluents. The offering includes all the relevant characterization capabilities, including GMP-qualified instrumentation/procedures for
mass spectrometry (MS)
and cell-based assay (CBA), the expertise of the KBI team, and versatile product exposure. It is a one-stop solution for analytical needs that can encompass a wide range of biological products, including proteins, monoclonal antibodies, peptides, AAVs, and vaccines, among others.
The clinical and commercial success of biotherapeutics hinges on the development of robust, reproducible, analytical methods. This cGMP renewal in Leuven enables KBI to continue providing
world-class analytical services
to help clients develop lasting solutions to the analytical challenges that come with the development of biologics.
About KBI Biopharma, Inc.
KBI Biopharma SA is a wholly-owned subsidiary of KBI Biopharma, Inc., and a JSR Life Sciences company. KBI Biopharma is a leading global contract development and manufacturing organization (CDMO) providing fully integrated, accelerated drug development and biologics manufacturing services and expertise to life science companies. With each of its 500+ client partners, KBI works closely to personalize and accelerate drug development programs. Built upon a foundation of world-class analytics capabilities and extensive scientific and technical expertise, KBI delivers robust process development and clinical and commercial cGMP manufacturing services for mammalian, microbial, and cell therapy programs. Recognized for quality manufacturing, KBI helps clients advance drug candidates into the clinic and beyond. KBI serves its global clients with multiple locations in Europe and the USA.
www.kbibiopharma.com.