Join KBI Biopharma at PEGS Europe


When: 14-16 November, 2022
Where: Barcelona, Spain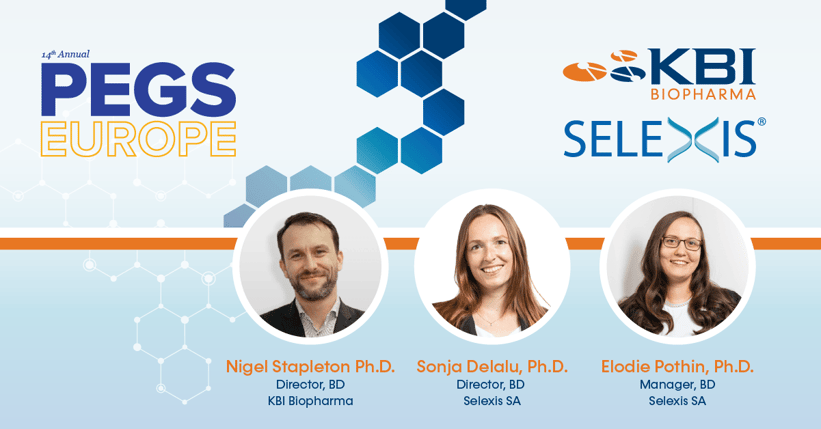 Join KBI Biopharma, Inc. at PEGS Europe this November! Be sure to stop by our booth to meet with Nigel Stapleton, Director of Business Development for KBI Biopharma, Sonja Delalu, Director of Business Development for Selexis, and Elodie Pothin, Manager of Business Development for Selexis. We look forward to seeing you in Barcelona!
Scientific Talk: Cytogenetics Platform Revolution: From the Research Laboratory to a High Throughput Industrial Platform
Ghislaine Arib, PhD, Genomics Director, Cell Line Development R&D
Talk track: Expression Stream – Optimizing Expression Platforms
Date: November 15th, 01:50pm

Speed and cost-effectiveness are the main features of Selexis' cytogenetics industrial platform for high throughput karyotype data analysis. It enables routine investigation of clonality assessment by overcoming the key limitations of the FISH (fluorescence in-situ hybridization) and karyotyping assay. FISH karyotyping can detect transgene integration sites and chromosomes rearrangements without performing a subcloning step, thus making it a suitable method for clonality assessment of randomly generated recombinant cell lines.


Poster Session: CHO Fed-Batch Strategies to Rapidly Increase mAb Titers by 100% Without Sacrificing Product Quality
Séverine Fagète, PhD, Vice President Cell Line Services
Talk track: C6B
Date: November 15th


In the field of therapeutic antibody production, diversification of fed-batch strategies is flourishing in response to the market demand. All manufacturing approaches tend to follow the generally accepted dogma of increasing titer since it directly increases manufacturing output. While titer is influenced by the biomass (expressed as IVCD), the culture time and the cell specific productivity (qp ), we changed independently each of these parameters to tune our process strategy towards adapted solutions to individual manufacturing needs. To do so, we worked separately on the increase of the IVCD as high seeding fed-batch capacity. Yet, as intensified fed-batch may not always be possible due to limited facility operational mode, we also separately increased the qp with the addition of specific media additives. Both strategies improved titer by 100% in 14 days relative to the standard fed-batch process with moderate and acceptable changes in product quality attributes. Since intensified fed-batch could rival the cell-specific productivity of a conventional fed-batch, we developed novel hybrid strategies to either allow for acceptable seeding densities without compromising productivity, or alternatively, to push the productivity the furthest in order to reduce timelines.
About KBI Biopharma:
KBI Biopharma is a leading global contract development and manufacturing organization (CDMO) providing fully integrated, accelerated drug development and biologics manufacturing services and expertise to life science companies. With each of our 500+ client partners, we work closely to personalize and accelerate drug development programs. Built upon a foundation of world-class analytics capabilities and extensive scientific and technical expertise, we deliver robust process development and clinical and commercial cGMP manufacturing services for mammalian, microbial, and cell therapy programs. Recognized for quality manufacturing, we help clients advance drug candidates into the clinic and beyond.
About the Conference:
Network with 1,200 colleagues at PEGS Europe, the largest protein & antibody engineering event in Europe, which has been described as "the best biologics technology meeting in Europe." Last year, nearly 900 delegates from 35 countries, including 78% from pharma and biotech organizations, convened in beautiful Barcelona and online to discuss the latest advances in protein and antibody engineering.
---
Let's connect: