1 min read
Oct 2022: Cell & Gene Meeting on the Mesa

KBI Biopharma Sep 9, 2022 12:15:42 PM
Join KBI Biopharma at
Cell & Gene Meeting on the Mesa
When: 11-13 OCTOBER, 2022
Where: Carlsbad, CA
---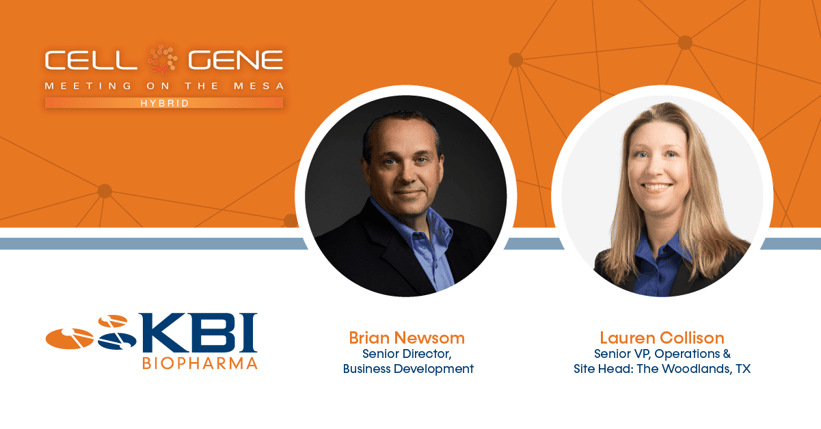 Join KBI Biopharma, Inc. at Cell & Gene Meeting on the Mesa this October! Be sure to meet with our expert team, including Brian Newsom, Senior Director of Business Development, and Lauren Collison, Senior VP of Operations and Site Head for our facility in The Woodlands, TX. We look forward to seeing you there!
About KBI Biopharma:
KBI Biopharma is a leading global contract development and manufacturing organization (CDMO) providing fully integrated, accelerated drug development and biologics manufacturing services and expertise to life science companies. With each of our 500+ client partners, we work closely to personalize and accelerate drug development programs. Built upon a foundation of world-class analytics capabilities and extensive scientific and technical expertise, we deliver robust process development and clinical and commercial cGMP manufacturing services for mammalian, microbial, and cell therapy programs. Recognized for quality manufacturing, we help clients advance drug candidates into the clinic and beyond.
About the Conference:
The Cell & Gene Meeting on the Mesa is the sector's foremost annual conference bringing together senior executives and top decision-makers in the industry to advance cutting-edge research into cures. Tackling the commercialization hurdles facing the cell and gene therapy sector today, this meeting covers a wide range of topics from clinical trial design to alternative payment models to scale-up and supply chain platforms for advanced therapies. The program features expert-led panels, extensive partnering capabilities, exclusive networking opportunities, and 100+ dedicated presentations by the leading publicly traded and privately held companies in the space. Attracting over 1,700 attendees – over 20% of which are C-level executives – this conference enables key partnerships through more than 3,000 one-on-one meetings while highlighting the significant clinical and commercial progress in the field.
Visit the conference website >>
---
Let's connect: