Commercial
Release & Stability
Complete range of ICH stability conditions and GMP test methods
Commercial Release & Stability Programs
Supporting Products in All Stages of Development
Evaluating the identity, strength, purity, potency, and safety properties of the drug substance and drug product upon release and over the course of its shelf life is critical for regulatory and marketing purposes.
KBI provides a complete range of ICH stability conditions and cGMP test methods to assure the accurate profile of your biopharmaceutical product.
KBI excels in the performance of accelerated and long-term stability studies, from developing the protocol to delivering a technical document ready to be placed into your regulatory submission. KBI's release and stability program experience includes products in all stages of development, from preclinical to commercial, and covers the full spectrum of biopharmaceutical products, such as antibodies, enzymes, fusion proteins, PEGylated proteins, conjugates, protein vaccines, peptides, and oligonucleotides.
Our services include:
Specification development for release and stability testing
Protocol development for stability testing
Design of studies and pull schedule
Cumulative reporting and trend analysis
ICH/cGMP stability programs for clinical and commercial products
Full analytical development, qualification/validation, and cGMP testing capabilities
COA generation and issuance
Full limited-access controlled facility and storage chambers
24-hour computer-monitored facilities
Redundant back-up electrical power and HVAC
Photostability testing under ICH Q1B or custom conditions
Determination of retest dates and expiration dates
21 CFR 210 & 211 compliant quality systems
FDA and EMA-approved sample management, analytical laboratories, and quality systems
Submission-ready reports
KBI's Commercial Release & Stability Capabilities
Identity
Peptide mapping

Western blot

ELISA

HPLC (SEC, RP, IEX, HIC, etc.)
Strength
UV (A280)

BCA, Bradford, etc.

ELISA

HPLC (RP)
Purity
HPLC (SEC, RP, IEX, HIC, etc.)

SDS-PAGE, IEF

CE (CE-SDS, cIEF, CZE)
Potency
Enzymatic activity

Cell based assay (proliferation, cytokine release, etc.)

Ligand-binding (ELISA, Biacore, Forte Bio)
Safety
Residual host cell protein via ELISA

Other process residuals (e.g., antibiotics, inducers, detergents, etc.)

Bioburden

Residual DNA via qPCR

Endotoxin
Quality
Appearance (USP/EP)

Osmolality

Residual moisture

Subvisible particles via HIAC and MFI, including evaluation of particles <10µm

Glycan profile via NP-HPLC, CZE, etc.

pH
Explore More Analytical Services & Capabilities: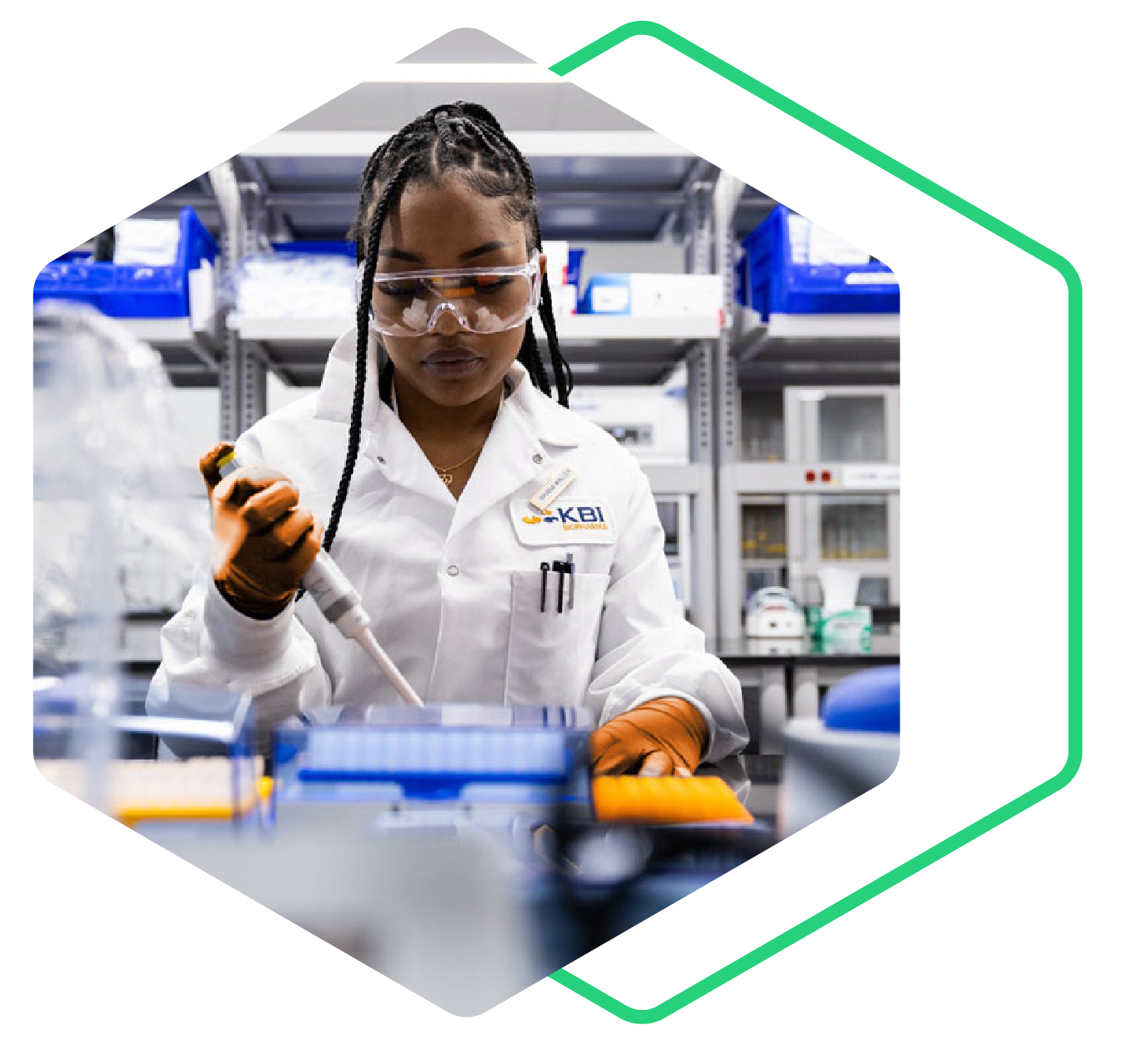 Never Miss Another Update!
Subscribe to KBI's Newsletter, The Pulse, to stay up-to-date on all the latest news, articles, and events from KBI Biopharma.