June 4, 2020 | 11:00am ET
WEBINAR: AbSci and KBI Joint Webinar from kbibiopharma on Vimeo.
AbSci and KBI: Pairing an all-in-one expression technology with state of the art purification and analytical strategies to advance complex protein clinical supplies.
KBI Biopharma, a leading biopharmaceutical CDMO and AbSci have launched an exclusive partnership to co-market each other's technologies and capabilities.
AbSci, offering best-in-class E. coli cell lines for rapid and low-cost biomanufacturing, has partnered with KBI Biopharma as their preferred CDMO partner for scale up and cGMP manufacturing. KBI Biopharma, a leading biopharmaceutical CDMO providing fully integrated biopharmaceutical development and manufacturing services, has the exclusive right to market AbSci's Protein Printing™ technology worldwide and is AbSci's preferred CDMO for industrial scale-up of biologics developed using AbSci technology. This partnership will give clients a seamless path from cell line development to process optimization/scale up and cGMP manufacturing.
During this webinar participants will learn:
How AbSci and KBI are working together to offer expanded capabilities for feasibility and proof-of-concept studies difficult to express proteins, along with full strain development through GMP manufacturing solutions
How AbSci's revolutionary technology for rapidly tailoring an

E.

coli strain enables faster development and lower-cost of life-enhancing products
KBI's development strategies that may include scale up fermentation runs, fermentation process optimization via ambr® micro-fermenters, purification and analytical characterization of target protein, and more.
---
About the Presenter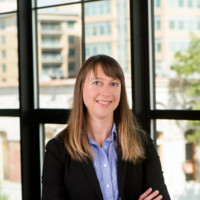 Melissa Patterson, Ph.D.
Melissa Patterson serves as Director of Alliance Management at AbSci. She leverages her passion for emerging biologics technology, over 8 years of experience as a protein scientist, and savvy for strategy & relationship-building to create long-term value for AbSci and our partners. Before joining AbSci, Melissa's career in academia aimed to improve protein folding with applications to both biomaterials manufacturing and drug discovery for rare diseases. Melissa obtained her doctorate in chemistry from Emory University, and carried out post-doctoral studies, funded by the Cystic Fibrosis Foundation, at Oregon Health & Science University.
In 2016, Melissa joined the AbSci team as a scientific leader & innovator. In her tenure at AbSci, she has directed both the analytical development and purification teams before becoming a part of the business development and alliance management function. She has delivered invited presentations on AbSci's technology and is a coinventor of AbSci's patented purification technologies (SoluPureTM). Melissa brings keen scientific curiosity and tangible enthusiasm to her role and to AbSci's mission to enable faster development and lower cost of life-enhancing therapies.